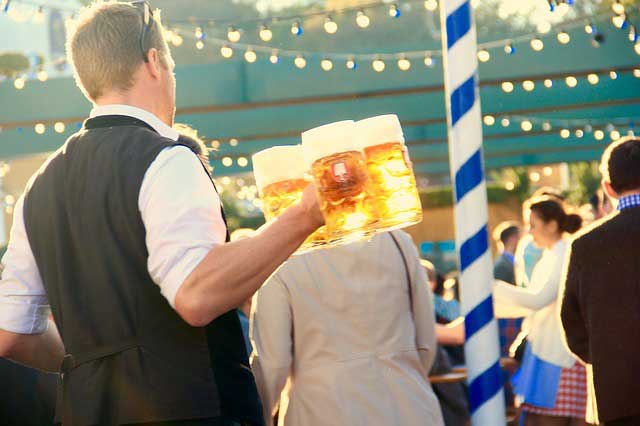 Massive beer tents, lines of vendors selling traditional German Brezen and Wurstl, carnival games and the custom beer barrel tapping ceremony are all found in Munich for Oktoberfest from September 21st to October 6. If you haven't gone to see the famous festival first-hand, stop reading this blog and contact Delux World Wide Transportation's New York City Limousine Service. Get to the airport and go! If you're looking to celebrate a little closer to home this Oktoberfest, know that New York City has you covered with events throughout the next six weeks.
Below are three events that we've tagged as must-dos for those looking to get a taste of Oktoberfest with a New York twist. With over fifty years' experience as a New York City limousine service, trust our chauffeurs to give you a VIP-level transportation treatment on the way to your Oktoberfest celebrations.
Watermark Oktoberfest
Located in the Seaport district in Manhattan, Watermark Bar will be hosting its annual Oktoberfest across four weekends starting Friday, September 21st to Sunday, October 14th. Watermark does a fantastic job recreating a traditional Oktoberfest atmosphere by serving traditional German festival cuisine and one-liter stein beers like Hofbrau, Weihenstephan, and Radeberger. While you won't mistake the bar for the Hacker-Pschorr Tent in Munich, Watermark is a modern, two-level 3,500 ft venue that features incredible views of New York's iconic Brooklyn and Williamsburg bridges, as well as the Queens-Brooklyn waterfront.
Each Oktoberfest day starts at noon and ends at midnight, so remember to call a New York City limousine service to get you home safely after a full day of celebrating. Tickets are available across a few different packages and are available for purchase on Eventbrite.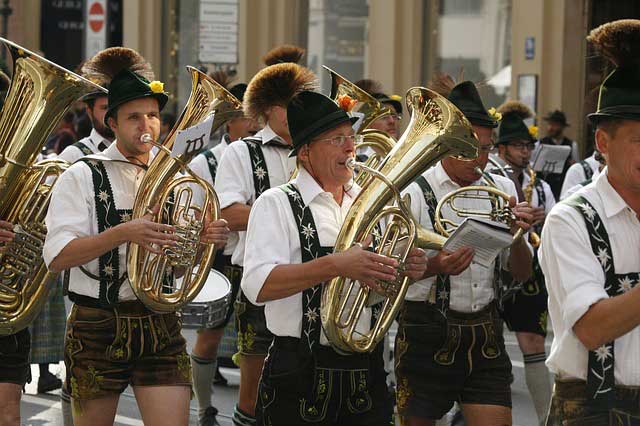 New York City Limousine Service
Munich on the East River
Popular Alphabet City beer hall Zum Schnieder will be hosting its fifth annual Oktoberfest along the east river over two weekends – from Friday, September 28th to Sunday, October 7th. The festival prides itself in being one of the most accurate foreign representations of traditional Oktoberfest customs. Unlike Watermark, the Zum Schneider sponsored event, primarily hosted in a sizeable Oktoberfest-style tent, features day-long performances of traditional Oompah and Wiesn music by performers like Mosl Franzi and the JaJaJa's. Zum Schnieder sells authentic German cuisine year-round, so its no wonder that their Oktoberfest menu goes a step further to include Wiesn-Handl (Oktoberfest roast chicken), Schweinhaxe (roast pork knuckle) and Steckerlfish (grilled mackerel). If you have business associates in from out of town this fall, we highly suggest taking the afternoon to introduce them to Zum Schnieder's Munich on the East River via our corporate car service. Purchase your tickets today on the event's website.
Hint: For those looking to live a little more dangerously, an afterparty is located at Zum Schnieder's restaurant on the corner of Avenue C. and E. 8th street. Make sure your travels are safe and hassle-free by reserving affordable car service with Delux Worldwide Transportation.
Das Bronx Oktoberfest
In contrast to typical Oktoberfest events spanning multiple weeks, Bronx Brewery's Oktoberfest event is a one-day event, scheduled for Saturday, October 22nd from noon to 8 pm. Enjoy this event located at 856 East 13th Street, Bronx. The historic New York brewery will be releasing the updated version of its annual DAS BRONX Oktoberfest style lager and while you're there, enjoy some live music and traditional German fare.
Be sure to book your tickets on Eventbrite quickly, as the first 150 ticket buyers are entitled to the chance to purchase a limited edition beer stein.
For all those planning on celebrating Oktoberfest abroad, Delux's New York City airport limo service, we'll get you there hassle-free. However, don't despair if you can't make it to Munich for the real thing, because New York has put its own spin on Oktoberfest with engaging and traditional events that'll make you glad you stayed on home turf. For all your transportation needs, and to visit all the above events, book our New York City Limousine service online at https://deluxtransportation.com/
Comments are closed.