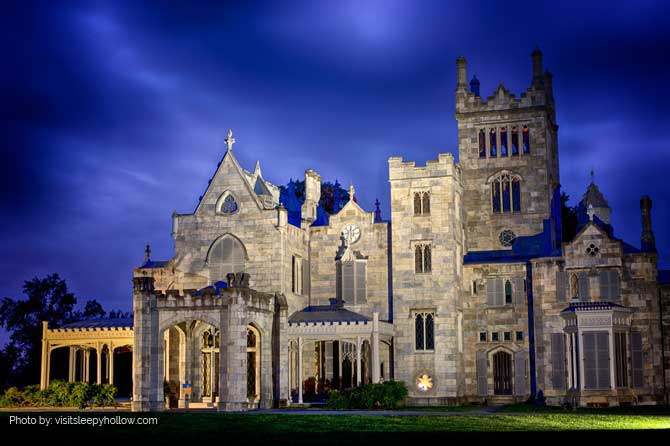 Fall weather in New York State lends itself perfectly to long weekends discovering all that Westchester has to offer.  One of the best ways to enjoy the fall foliage is with car service New York style.
The quaintness of the lower Hudson Valley makes travel to this area a prime fall destination for New Yorkers looking to escape Manhattan.  You might be surprised many find the Hudson Valley to be a nice area for family-friendly activities. Doting parents will also be happy to learn about the range of cultural and learning experiences offered in the area. And when planning such excursions, it's good to consider luxury and convenient car service New York style.
Below is a list of our favorite family-friendly events to pencil into your calendars.
Irving's Legend in Sleepy Hollow
Introduce your family to one of America's classic tails of horror by visiting Sleepy Hollow, a village just 45-minutes north of Midtown. Step into Old Dutch Church, a prominent site in Washington Irving's tale, The Legend of Sleepy Hollow. The kids will love the live storytelling performance. Utilizing the authentic Sleepy Hollow setting, you will hear sounds of a classically-trained organists' soundtrack playing.
The storytelling is led by renowned Westchester Jonathan Kruk.  The tale of the Headless Horseman truly comes alive by this talented storyteller. According to reviews, Kruk's performance continually utilizes audience engagement to keep children entertained. This spooky tale is expertly adapted for the entire family.
Hint: Once you're done make your way through the Sleepy Hollow Cemetery where Washington Irving is buried and then to nearby Tarrytown to visit the statue of Rip Van Winkle, another of Irving's creations.
Delux Worldwide Transportation will get you there by way of our New York limo service. Enjoy personalize door-to-door service provided by friendly and experienced chauffeurs who go beyond to ensure the whole family is comfortable. Our diverse fleet offers late model vehicles to accommodate your family's needs and upon request, car seats are available for the little ones.
Kyuit, the Rockefeller Estate
Kykuit was home to four generations of the Rockefeller family who used their ownership to decorate the halls and grounds of this grand estate with fine art and enticing sculptures. The estate has since been gifted to the National Trust for Historic Preservation, helping to maintain Kykuit's elegance and open it up to the public.
Arrive in luxury with Car Service New York Style!
You don't have to be a Rockefeller to travel in luxury. Delux offers convenient car service New York by way of chauffeur driven vehicles. Choose from our fleet of limousines, black cars, and most popular SUVs. When you reserve a vehicle for an all-day excursion, you'll be experiencing a level of service unmatched by lesser transportation services. Our flexible service allows you to be spontaneous. Want to stay longer or take a detour? No problem, with our professional service, you have the freedom to choose.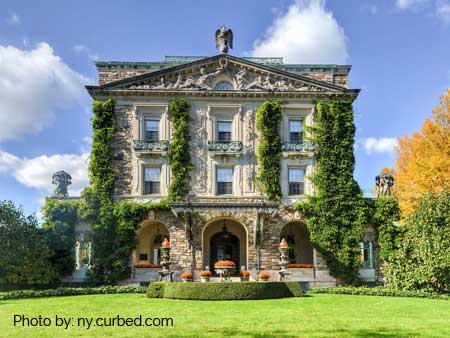 Kyuit offers five different tour options, all are family friendly for children over the age of five. The Classic Tour is perfect for those looking to get an upfront experience of the six-story stone mansion. The architecture as well as the intricate design of each room are breathtaking. The Grand Tour includes all the sights of The Classic Tour and extends it to cover the estate gardens and galleries.
Incredibly, Kykuit is just down the road from The Old Dutch Church, so allow our professional chauffeur to transport your family in luxury black car service, just like a Rockefeller. Visit this classically elegant former Rockefeller-family owned estate by car service New York.
The Westchester Children's Museum
Located adjacent to Playland Park in Rye, the Westchester Children's Museum is a fun and engaging alternative for kids not wanting to go to the Park. Exhibits at the museum are dedicated for children ages 0-13 and are meant to inspire them to experience real-world applications of physics, sciences, art, technology, and design. Each exhibit is also highly engaging and invites children to design their own creations.
One example being the "build your own rollercoaster" exhibit currently available. In addition, and for a limited time, the Lavan Family Gallery is showing a special exhibit "May We All Grow Up To Be Children". The exhibit features artwork from the forthcoming book Arthur and Bun-Bun: Adventures with Tut.
So focus on some true family fun and leave the hassle of driving to us. Since 1960 our clients have been enjoying Delux's professional car service New York style. Call today, book online, or make reservations with our mobile app. 516-883-1900
Comments are closed.