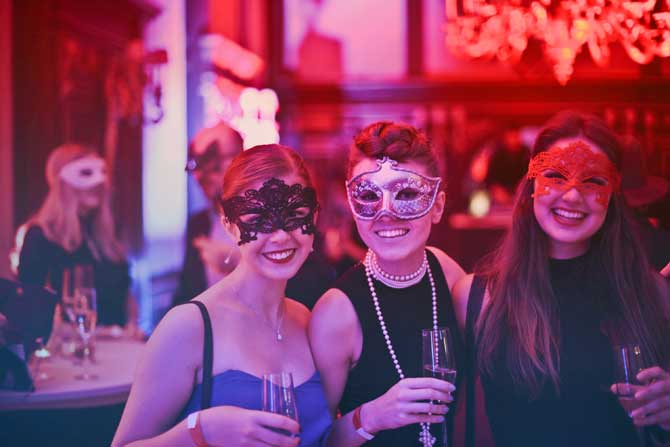 For many office workers, the holiday season signifies end-of-year goals to achieve, data report and planning for 2019. Amidst the December deadlines also comes the corporate holiday parties, helping to celebrate another year. The corporate festivities may seem far-off, but experienced party planners will tell you that almost all holiday event planning should take place before November. There is a mismatch between the number of businesses looking to celebrate the end of the year and the number of quality venue options. Venue choice is extremely important, as is the mode of transportation provided so that employees can celebrate without worry of how to get home. Avoid all the hassles, and experience the comfort with car services in New York City.
Delux Transportation has a 58-year history of elegant, professional corporate car service by licensed chauffeurs. Instead of opting for lesser transportation options, or even public transit, contact Delux at (516) 883-1900 and book professional limo service in New York to travel, to and from your event.
Experienced and Professional Chauffeur's
The holiday season is typically THE busiest time of the year in New York City. The normal hustle and bustle of the city is amplified at the end of the year as holiday festivities in places like Bryant Park and Rockefeller Center attract scores of tourists. The sheer amount of people in Manhattan during the holiday season causes traffic congestion as well as street closures that can cause heavy transportation delays. In times like these, it's important to enlist the services of trusted chauffeurs with experience navigating Manhattan. Their added experience will almost certainly become useful as all employees seek to celebrate their achievements and the holiday season with their colleagues. Car services in New York City will ensure everyone gets to and from the party safely.
Safe and Efficient Transportation
Amid the excitement of attending a corporate holiday party, transportation is often an after-thought to many employees. But as the corporate sponsor for the holiday festivities, the last thing you want is an employee searching for a ride home at the last minute, especially if there is alcohol involved. Instead of worrying about how your employees will find their way home, take the matter out of their hands and proactively book a corporate car service. The benefits with NYC car services are obvious. Your employees will be able to enjoy themselves without the looming specter of finding a way home, even if they live in New Jersey, Westchester or Long Island.
Book Your Holiday Transportation Ahead of Time
Planning for you company's holiday party is often a stressful and thankless task until everything comes together the night of the event. Right now, you may be analyzing venue by looking at cost, capacity, location, and food and beverage offerings. Getting the venue and location right is certainly the first step in properly planning your company's holiday party. But, once the rush to book a venue is over, remember to place a call to a reputable corporate car service to ensure your employees receive safe and efficient transportation.
You certainly don't want to be the only company that doesn't offer transportation to its employees during the busy holiday season. Explore the options and our exclusive fleet available to you and enjoy the most professional and secure car services in New York City.  Call or make online reservations to avoid all the hurdles reaching the venue on time.  516-883-1900
Comments are closed.