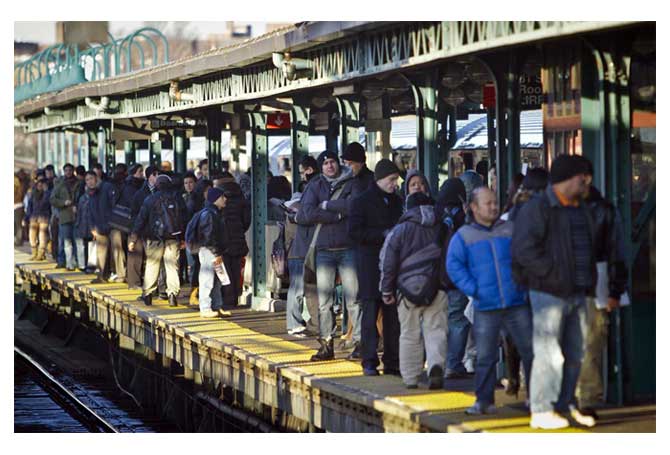 NYC Trains and Subways Break Down Every day. This NBA Season Arrive at Madison Square Garden and Barclays Center with the Efficiency and Style of a New York Limo Service
The NBA season is well underway in the city that is considered the 'Mecca of Basketball.' So while the New York Knicks and Brooklyn Nets are facing another dismal season, fans of both teams are passionate and have reasons to watch these young teams develop into potential contenders.
Coincidentally, one of the only things more difficult than watching season after season of losing basketball is getting to the arena.
Judging by its central location in NYC under Penn Station, you'd think that Madison Square Garden would be easily accessible. However, delays, signal malfunctions and poor track record with the Long Island Rail Road and New Jersey Transit always seem to make the ride to MSG a chore.  Take  a New York limo service instead.
Take NY Limo Service Instead
Moreover, what happens when you come from Westchester or Connecticut. Similarly, the Barclays Center in Brooklyn is situated at a crossroads for many key subway lines. However, similar to Penn Station, signal trouble and mounting delays often make getting there much harder than it appears on Google maps.
Instead of trusting an increasingly crumbling public transit infrastructure in NYC, trust the chauffeurs at a New York limo service to deliver you directly to MSG or the Barclays Center.
The chauffeurs at Delux Worldwide Transportation are veteran drivers, with experience navigating the busy NYC streets throughout the winter.
When the holiday season snarls traffic in NYC, and the subways and trains run late, be sure to contact Delux at (516) 883-1900.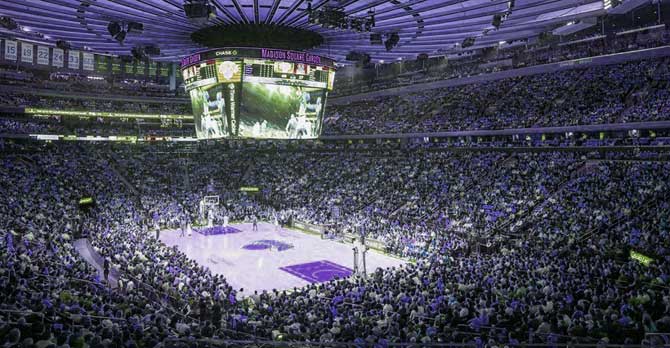 New York limo service is a preferred transportation option
Below we've uncovered poor transportation options for getting to MSG and the Barclays Center and suggest alternatives provided by a New York limo service.
Madison Square Garden
Madison Square Garden is at the top of the list with Rucker Park as a New York City Basketball Icon. This version of MSG (the 4th) opened in the same year as the reconstructed Penn Station, in 1968. At the time, MSG was the first structure to be built above an active railroad station.
Penn Station services the Long Island Railroad, New Jersey Transit and Amtrak. However, as most New Yorkers know, the Long Island Railroad is rarely given satisfactory performance marks by commuters and casual riders alike. For example, in 2016 an estimated 7.5 million passengers were inconvenienced by trains arriving late or that were canceled, according to the New York State Comptroller's office.
New Jersey Transit, on the other hand, has been roiled by train derailments relating to the crumbling Hudson River tunnel, which is said to have less than 20 years of serviceable life left, according to Amtrak.
The transit system in-and-out of Penn Station is flawed and untrustworthy, and from personal experience, we know how frustrating it can be to miss tip-off because you are stranded on the train in Queens. Instead of leaving transportation to the Knicks game up to chance, reserve a distinguished NYC limo service that will pick you up on time and get you to the game as efficiently as possible.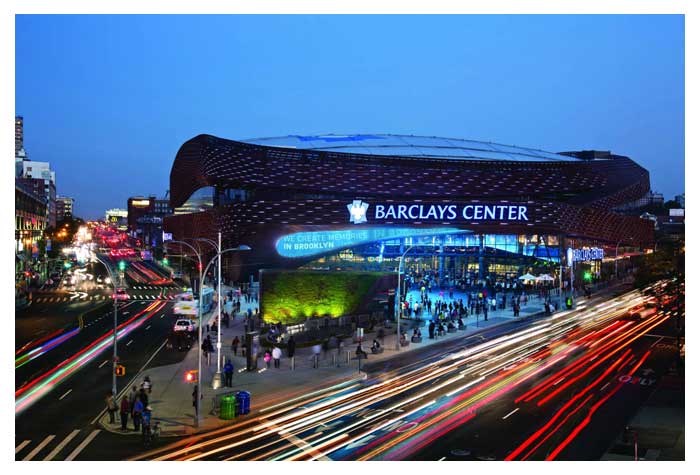 Barclays Center
When it opened in 2012 with fanfare from the likes of Jay-Z, the Barclays Center was thought of as an architectural wonder at the center of Brooklyn's ongoing development. Now, six years later, reactions to the arena are mixed. The Nets enjoyed a run of playoff success from 2013-2015 but have had three straight losing seasons since then. Even worse, hockey fans have complained about the distorted viewing angles at the Barclays Center for home New York Islander games.
Part of becoming a jewel of Brooklyn was developing the arena as a major transportation hub. It is home to 10 subway lines and the LIRR's Atlantic Avenue terminal. While this is an admirable attempt, Barclays Center has not been immune to the structural issues that plague the subway throughout the city. Even more alarming were incidents like this in September when parts of the ceiling collapsed on the 4 and five train platform during the morning commute.
Conclusion:
Placing your trust in a subway system full of negative issues such as delays, signal issues, and dilapidated infrastructure is no way to get to the Barclays Center. Instead, we recommend riding to Brooklyn's crown jewel arena in luxury and with a level of service that is well worth the price.
When compared to public transportation options, the most direct route with the most experienced and professional drivers from a Long Island Limo service is a natural choice.
Call us, reserve online, or conveniently book a vehicle with our mobile app,  516-883-1900.
Comments are closed.