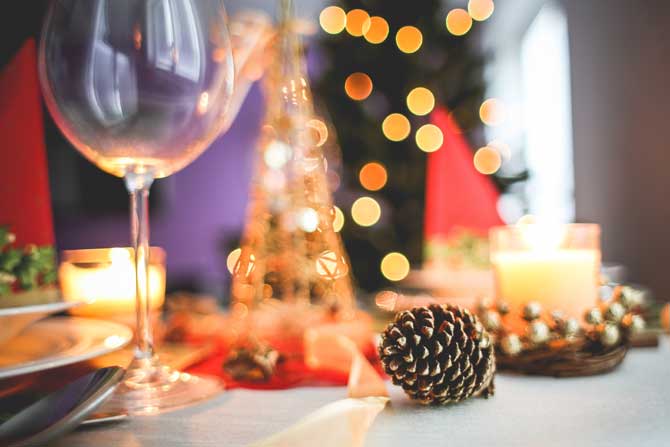 The last time we discussed corporate holiday parties, we highlighted the importance of planning your company's event ahead of time and reserving a quality corporate car service with a NYC Limo to ensure your employees get home safely. Hopefully, you've heeded our advice and have your event plans coordinated for the 2018 holiday season.
For this blog, we will be examining the latest trends in corporate holiday party production. Based on the popularity of some of the requests we are seeing, we have done some research. Hire a NYC Limo to make the event a happy and safe one.
The Party Bus offered by our NYC Limo Company
A large party bus is perfect for groups looking to take a tour of the town with a mobile celebration. These buses often can accommodate food and bar areas with alcohol.  Most have sophisticated entertainment systems that can outshine most party venues in New York City. Party buses allow the group to stay together before you arrive at your reservation or venue. With the entertainment, food, and alcohol options aboard, the party bus becomes part of the event rather than merely transportation. Party buses are a perfect vehicle for smaller companies with their younger employees. A New York corporate car service offers a professionalize experience with high-end service and a commitment to safety as you roll through the streets of New York.  Reserving a NYC limo from us is easy. Call 516-883-1900, book online, or use Delux Worldwide Transportation's mobile app.
Charity Food Deliver (Day) then Party (night)
Companies are continuously looking to improve their philanthropic programs in the name of corporate social responsibility. One trend the corporate car service industry has noticed lately is the uptick in companies planning philanthropy or volunteer days in connection with their end of year festivities. And after a long day giving back to the community the employees will meet later that evening for a celebratory holiday party.  Make sure they get home safely with our NYC limo service.
A corporate philanthropy day is indeed a great way to celebrate the holidays and bring goodwill through the new year. For their philanthropy day, companies have organized clothing and food drives.  Using a van and trusting drivers from an NYC car service to deliver donations to designated shelters is a great convenience.
As an alternative, some companies volunteer at soup kitchens, organizations like the YMCA or Ronald McDonald House as well as nursing homes. Often larger companies will recruit a bus or two from corporate car service to shuttle employees to and from their volunteer station.
Sports Games
Always popular around the holidays, employees love to be treated to box seats at sporting events. Look at a Ranger or Knick game in December on television. Madison Square Garden is noticeably full of attendees with a corporate group either in box seats or in a suite. Keep in mind suites are always in high-demand at Madison Square Garden around the holidays for holiday festivities.
We've detailed some of The Garden's history and the lack of reliable transit options in a previous blog. The problems on public transit make it even more imperative to trust the professionally licensed chauffeurs at a corporate car service to efficiently get you to The Garden by tip-off or puck drop.
Corporate holiday traditions are changing as rapidly, but you can count on Delux Worldwide Transportation to provide a consistent level of high-quality service for your company's year-end event.
Go online to place a reservation or give us a call at (516) 883-1900.
Comments are closed.