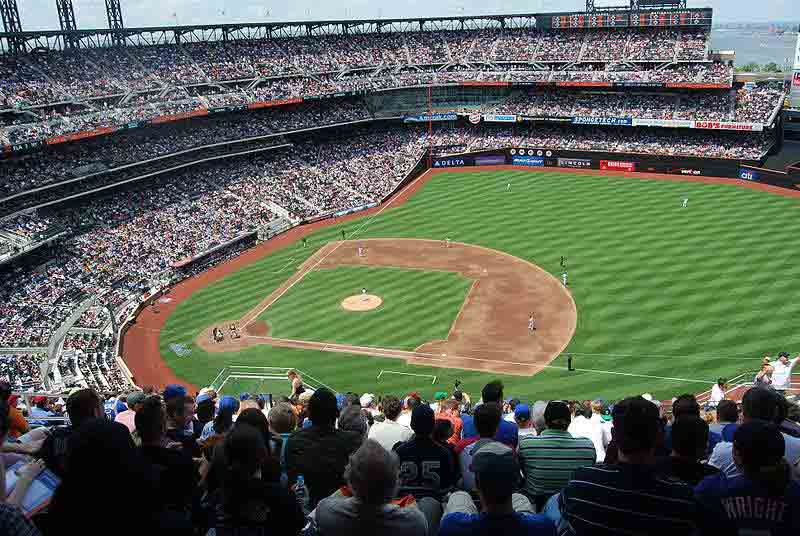 With opening day happening tomorrow, many fans of both New York's baseball teams, the Mets, and the Yankees are finalizing ticket packages. This season is likely to be one of the busiest and most exciting seasons for New York baseball fans with both teams expected to contend. Many fans will be planning transportation to Citi Field or Yankee Stadium not only to cheer on their teams but to also check-out updated amenities, drink, and food options at these facilities. We encourage fans to arrange Tri-State limousine service that gets you to the game on-time, allowing you to responsibly cheer America's pastime.
Read further for an overview of some of the updated amenities available at Citi Field and Yankee Stadium for the 2018 baseball season. Delux Worldwide Transportation's luxury limousine NYC service operates in Queens and the Bronx so be sure to contact us for transportation.
Citi Field
The new group areas brewery and expanded dining options are perfect for fans using a Tri-State limousine service to Citi Field.
The team upgraded the Citi Pavilion, a spacious seating area in right-center field with 60 seats and 32 additional standing-room-only tickets. The area is meant to service large groups of 23-92 and includes complimentary soft drinks, beer, and snacks for $120-200. These new features make it the perfect location to entertain corporate clients and bring them home responsibly via a Tri-State limousine service.
Mikeller, a Danish craft beer brewer is opening its first east-coast U.S. location at Citi Field this year, located adjacent to McFadden's' Bar outside the stadium's right field gates. The brewery, which is accessible without a ticket, plans to have 60 varieties of beer on tap. As always we encourage fans to drink responsibly and arrange transportation home via professional car service. When flying in from out of state, make sure to inquire about our Long Island airport car service.
Last week, Citi Field hosted a preview of the best new menu options at the stadium during the Mets' 2018 season. One of the best new food vendors is Queens-born Rapper Nas' fried chicken concept, Sweet Chick. Sweet Chick has four new menu options exclusively-tailored to Mets fans, including a spicy chicken sandwich and chicken & waffles. Another new option is "The Alpine Brat," brought to Citi Field by Wisconsin-based Baked Cheese Haus. "The Alpine Brat" features a bratwurst in a French baguette topped with fresh Swiss cheese, onions, cornichons and mustard. With these elegant options, why not roll-out of Citi Field in style with a luxury limousine service.
Yankee Stadium
The Yankees did a great job outfitting their stadium with state-of-the-art fan areas for large groups. While these changes are entering their second-year, many fans have yet to take advantage of The Pinstripe Pass. The Pinstripe Pass is a standing-room-only ticket that provides access to several fan areas:
– The Masterpass Batter's Eye Deck located in centerfield was recently expanded to 3,500 feet overlooking the Yankees outfield. The deck includes a large array of food, drink, beer and cocktail options.
– Franks RedHot Terrace and the Toyota Terrace are located above the bullpens in left and right field respectively, and offer fans exclusive food and drink options to be enjoyed as a group.
– Finally, the Budweiser Party Decks and AT&T Sports Lounge, all located on the 300 level, offer a sports-bar experience, outfitted with large-screen TV's, and communal tables.
These locations are perfect for entertaining groups of Yankee fans, so why not cap off the experience with a luxury limousine service to Yankee Stadium. Many NYC limousine services, including Delux Worldwide Transportation, are equipped to professionally handle all of your transportation to and from the stadium.
Regarding new food options, Yankee Stadium has introduced Bacon Bats, slices of thick cut bacon attached to a souvenir bat, as well as Tater Kegs (jumbo tater tots with toppings) and Grand Slam Shakes sure to attract the taste buds of even the pickiest fans. To top-it-off, the Yankees recently revealed they would be teaming up with Blue Point Brewing Company to sell beers with a portrait of a team player embedded in the foam. Yankee fans can experience a beer with the face of Aaron Judge, Didi Gregorius, or Gary Sanchez staring back at them.
When considering trips to Citi Field and Yankee Stadium this season, be sure to contact us to learn about our professional Tri-State limousine service. Baseball stadiums are perfect for group experiences, and Delux Worldwide Transportation's modern and luxurious fleet can help get you there. Call 24/7 – we're always opened! 516.883.1900
Comments are closed.