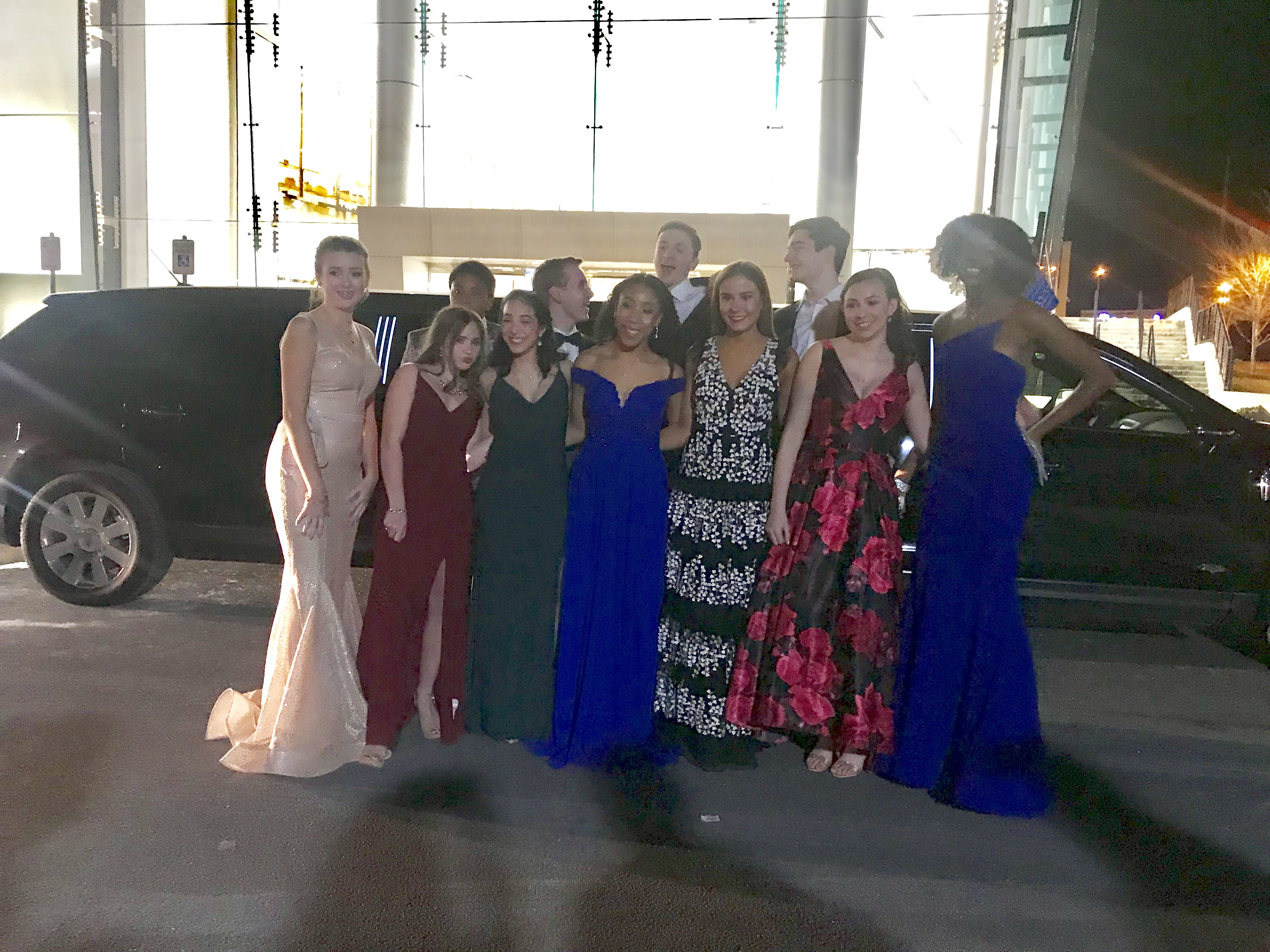 Prom is without a doubt one of the best days of a teenager's life. There are so many aspects that go into preparing for prom between dresses, haircuts, makeup, etc. that some may go forgotten until last minute. We want to make sure that the safety and travel of your children are completely taken care of well in advance so you can focus only on taking pictures of your beautiful children. Our chauffeurs have been transporting students for prom parties for over 50 years and will provide excellent service for your prom transportation.
Our fleet caries vehicles ranging in all different varieties and sizes. Along with luxury limo buses, luxury party buses, luxury vans, and stretch limousines, we also carry luxury sedans for parties that might prefer a smaller option. Whether it is a 56 passenger limo bus, a 27 passenger party bus, an 18 passenger stretch limo, an 8 passenger stretch MKT, or a 4 passenger luxury sedan, our chauffeurs have been driving children to and from prom since the '60s (although the vehicles are brand new!). These luxury prom vehicles all come pre-packaged with all fees included so there is no stress or worry on the big day.
Our luxury chauffeurs are rented to you by the hour with a minimum number of hours included in the package. Beyond that, you can work with our specialty coordinator to cater to the specific needs of your party. Parties may choose to go out after the prom or be delivered back to a local house and our drivers are experienced and well trained and can you assist you in any way.
We take extreme precaution when it comes to prom transportation as we are a family-centered company and want to keep your children completely safe on their special night. We require the address of every passenger in the vehicle as well as two emergency contacts so you can have peace of mind knowing your children are well taken care of not only by our driver but our entire company. We want them to have the best night possible and not have to worry about anything but the red carpet so we take care of every other aspect to ensure this. Our goal is to make sure your child has the safest and fun night ever.
All of our prom limo buses are state of the art vehicles that are built and custom designed specifically for events such as prom. The ambiance is set by a custom light throughout the entire vehicle and wrap-around style seating so everyone can be facing each other while enjoying the night. The ride to prom is an experience in and of itself and will set the night off to a fantastic start.
For smaller prom transportation parties, we have limo style vans, executive vans, and luxury sedans such as Mercedes, Cadillacs, Lincoln MKT's, Lincoln Continentals, etc. all equipped with luxury chauffeurs who will provide incredible and safe service. We understand that each prom party is different and will have specific needs and we are here to cater to every one of them. We can transport parties of 2 – 4 in our smaller vehicles and upwards of 50 in our larger vehicles, and everything in between.
Safety and fun are our priority for your children and is the goal of the service we provide. Delux has been providing Luxury prom transportation for 50 years for high schools all over Long Island and Manhattan. You're only responsible for prom night is to make sure you get fantastic photos of your children and we will take care of the rest.
Comments are closed.