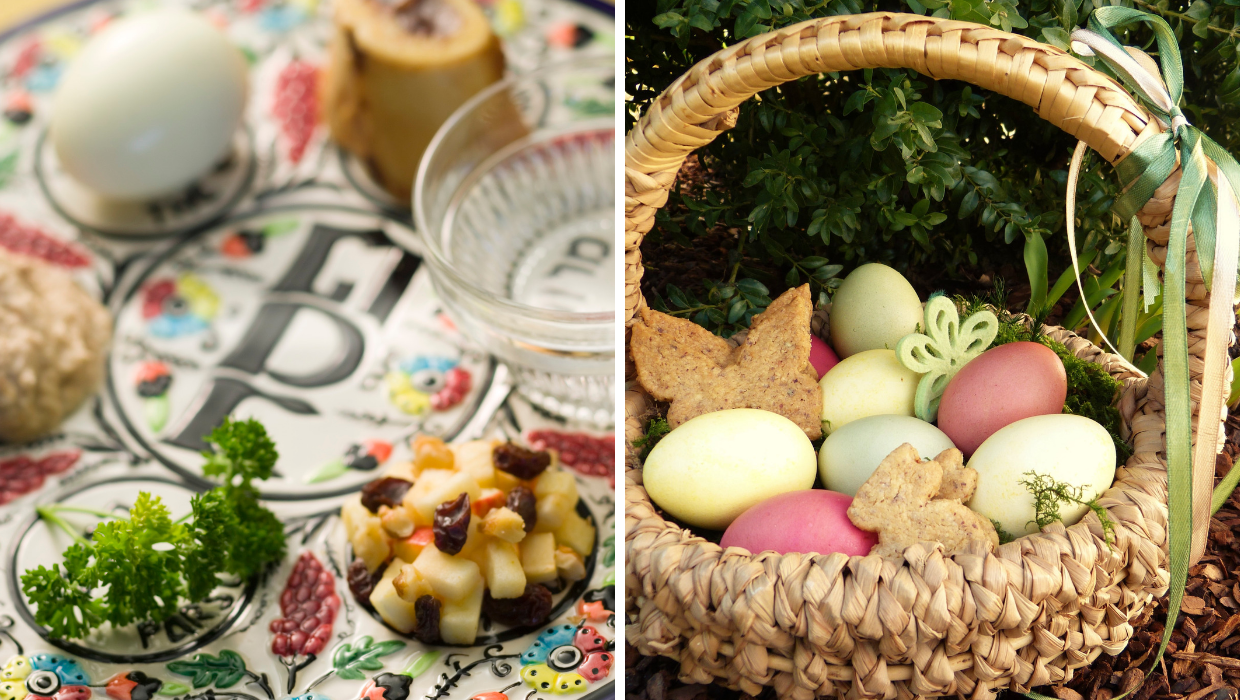 The Passover and Easter holiday seasons are approaching, and there are many upcoming events we've had on our radar! Whether you prefer over the top Easter bonnets at a parade, or delectable tasting menus, we sought out some of the most exciting events happening this month celebrating Easter and Passover. Below you will find our picks for everything from quiet afternoons, family-friendly events, or team scavenger hunts that are sure to end with beers and quite the story to tell!
Passover 2019 is celebrated between April 19th and 27th, and remembers and celebrates the Jewish exodus from Egypt. For your Passover celebrations, take the pressure off preparing everything yourself and allow Russ & Daughterscreate a special experience for Shabbat brunch. Their first Kosher restaurant at the Jewish Museum location takes reservations for Saturdays pre-fix menu, and features the restaurant's bialys, smoked and cured fish, and more. Be sure to stop by the museum's gift shop to purchase your own Seder plate, and tour the museum's collection of traditional and contemporary art. To make sure you're holding to Shabbat traditions, reserve and pay for your ride ahead of time with our app!
Celebrate the Seders with the Manhattan Jewish Experiencechoosing between two dates (the 19th and the 20th). The Seder is celebrated in an interactive and engaging way with the MJE Director, Rabbi Ezra Cohen. The Manhattan Jewish Experience is dedicated to bringing tradition and culture to city millennials through engaging and innovative programs. Each night brings a catered meal, buffet style desserts, and an open bar, so be sure to reserve a ride home!
To round off your 2019 Passover, spend an evening learning of the legacy of Eastern European Jews in music at the stunning Carnegie Hall.Acclaimed scholar Mark Slobin presents images and recordings covering a wide scope of Yiddish musical accomplishments, followed by a conversation with musicians on the continued influence of Jewish music in current culture. To elevate your evening, let us take you in style with our Black Car Service.
This year, Easter falls on April 21st. For the family looking for a fun Easter parade experience, you won't find a better tradition to adopt than the Fifth Avenue Easter Parade and Easter Bonnet Festival Dating back to the 1870s, the pageant has participants donning giant Easter bonnets and costumes from 10am until 4pm. Score a spot near St. Patrick's Cathedral for the best views, or ask your driver for their recommendations.
If you thought Easter Egg hunts were just for the kids, Slattery's Midtown Pub is out to change your mind! Gather your best friends and form a team to scour the city with clues. The first team to solve the clues that take you city-wide will receive a cash prize of $100! We're thinking you could have a leg up with a car on standby! What would be more fun than a group of friends, a limo, and a scavenger hunt? When your team is hungry from the hunt, stop back by the bar for traditional Irish pub fare, or order a group combo with buffalo wings, mozzarella sticks, and cheddar-bacon potato skins. Be sure to wash it down with a round of draft beers!
Your little ones can go on their own Easter Egg hunt on April 20th-21st at the Children's Museum of Manhattan. They'll have to use their wits to decode a holiday puzzle while exploring the museum's exhibits on culture, history, and science. Those that solve this year's color wheel puzzle will receive a special prize!
After your early morning egg hunts, be sure to take time for brunch! Options vary from southern classics at Root and Bone (For reservations: 646-682-7080), to traditional NYC brunch at Simon and the Whale (For reservations: 212-475-1924), to elegance at the Whitby Hotel (For reservations: 212-586-5656). Don't worry about how many mimosas you've had when you can call us to take you home!
Finally, to give back this Easter, you can volunteer through various charities to serve meals or assist charities in funding meals! The Bowery Missionis one such charity, looking to serve more than 98,000 meals this Easter season. Once you've scheduled your volunteer dates, use our app to easily get a ride to and from the mission!
What are your favorite ways to celebrate this holiday season? We would love to hear what unique events or traditions our city holds for your family!
Comments are closed.