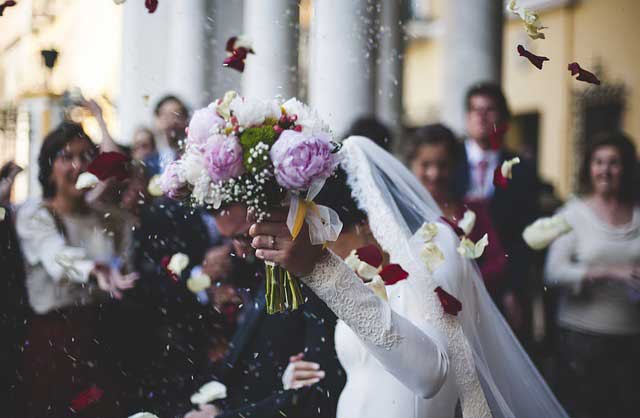 2017 is shaping up to be quite a year in the world of wedding planning in NYC. Everyone knows that when you get hitched in New York City, the whole world is watching, and Delux Worldwide Transportation's premium wedding limousine service is here to make sure you're the talk of the town. Are you up on your trends this year?
Did you know, for example, that color is making a comeback this year? That's right – no more plain all-white weddings! Are you a social media savant? Then download all the custom wedding filters from Snapchat and let everyone know about your big wedding in NY! Flying straight to the Bahamas for the honeymoon is always a lovely idea, but this year, 'exotic' has been swapped out for 'off the beaten track' honeymoons– some of the more surprising destinations this season are Iceland, Canada or even South Africa.
But before you take off on your romantic getaway, we have suggestions to help your big day be a success. Here are your hot tips for tying the knot this summer in the Big Apple.
Booked Wedding Limousine Service in NYC
Yes, it's true that millennials might be finding offbeat ways to get to the ceremony, rush off for their photo shoot and then head back to the reception hall, but this is New York City- a combination of the extravagant and the traditional too. If you're going to be treating yourself like royalty on your special day, nothing is more important than looking into a quality wedding limousine services.
Renting a limousine service in NYC isn't the hassle some think it is – in fact, with Delux Worldwide Transportation, finding your wedding limo is as easy as picking up the phone. Our classic, MKT Stretch Limousine provides rides in style and the peak of comfort. With our spacious interior, you and your wedding party can relax and enjoy the bustle of the city on your special day.
Not only will you be able to escape New York summer heat with our fully air-conditioned cars, you'll have the comfort of CD/DVD players, a flat-screen TV and a fully stocked in-car bar to dampen those pre-wedding jitters. If white's not your color, then pick our classic, sophisticated black limousine and roll downtown in style!
Luxury Limousine Service in and outside the city
Now that you've decided on the best luxury limousine NYC has to offer, only one question remains: where to go in your ride? Luckily New York, being the greatest city in the world, has no shortage of places to inspire your special day.
Inspired by the skyline? Then let us drive you to Midtown West's Top of the Rock – their Weather Room boasts exquisite views of the city, the perfect backdrop for your ceremony or reception. If you're looking to something a little more open-air, then the 620 Loft & Garden, with its lush lawn and picturesque chapel, is your new go-to.
What about something on the water?  The Lighthouse at Chelsea Piers has a grand view of the sunset as it disappears over the bay and no doubt, your reception will be given the attention it deserves. Or for something further up on the East River, Williamsburg's Giando on the Water is a hip, stylish venue for all your wedding needs.
Get Outta Town!
Looking to escape the bustle? One of the great benefits to making use of a limousine service in NYC is a hassle-free getaway from the crowds, light and noise. If you're looking for the purity of a simple, home-grown wedding near the big city look no further than Roslyn's Swan Club – their lush gardens, waterfalls, fountains and acres of green space will make your fairy tale dreams come true.
Dreaming of old-world luxury with new-world convenience? Then let us bring you to Leonard's Palazzo, a premium, North Shore destination for couples looking to tie the knot in luxury but don't want to break the bank. With an atmosphere of historic prestige and a pinch of modern charm, it's an ideal hotspot after taking photos in the surrounding orchards, beaches and gardens.
We know you're busy planning your perfect day, so let us help make every detail of the transportation magical. With our luxury fleet, wealth of local knowledge and courteous and professional drivers, your wedding will remain a warm and fond memory for years to come.
For these and more classic suggestions call Delux Worldwide Transportation where you'll find the most stylish and affordable luxury limousine NYC wide!
Comments are closed.