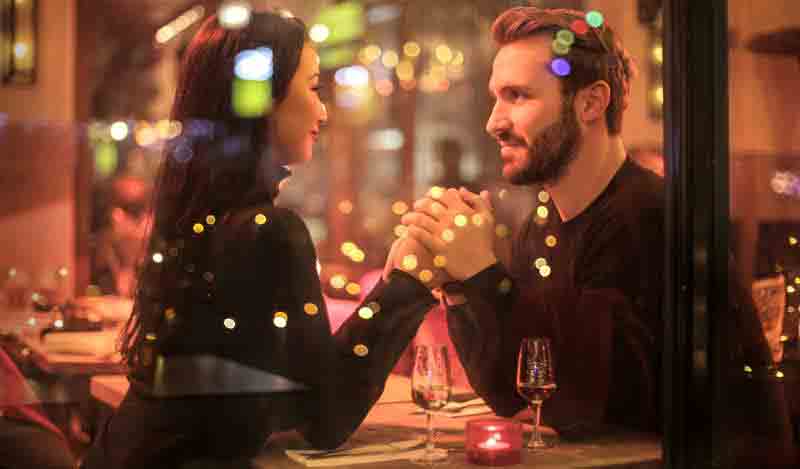 New York has more than its fair share of romantic locations. How many proposers do you think have gotten down on one knee at the top of the Empire State Building? Too many to count. How about spending the day with your loved one at one of the most iconic parks in the world – Central Park. And you can't go wrong spending an evening at Top of The Rock where the views are classic, the food is top notch and the ambiance is romantically perfect. Add our Luxury Limousine Service to the mix, and you've got the perfect Valentine's evening. NYC has too many choices when it comes to dining, and it was a hard decision for us to choose which ones to list.
Here are three classic choices:
One if by Land, Two if by Sea
The #1 top romantic dining spot since the 1970s, a carriage house dating from 1767 turned restaurant. It is famous for its candlelit dinners and impressive menus. The seven-course tasting menu is full of wonderfully prepared dishes. There is also a six-course vegetarian chef's tasting menu to accommodate the non-carnivorous eaters. There's also an a la carte menu if you don't have the time nor the appetite for a 6-course meal. And for the ultimate evening, book a luxury limousine service to take you there and back.
The River Café
The River Café is an all-time favorite restaurant in Brooklyn. With its romantic waterside location and views of Manhattan, it certainly has the set up for a romantic evening. And there are some great menu options – two prix-fixe menus, three courses to choose from or even go for the chef's pick of six courses. And for dessert, it has to be the chocolate marquise Brooklyn Bridge – yes it's a chocolate replica of the bridge! You're not going to want to drive nor take mass transportion after this meal. Reserve a chauffeur driven vehicle with our luxury limousine service.
Rainbow Room
If you want to dine in the spot made famous by families such as the Kennedys, Astors, and Roosevelts, then this is the place to go. This lounge at the top of Rockefeller Center dates from 1934 and has stunning views of the city. Dining in the Rainbow Room does require formal attire, dinner jackets are required for the men. There is plenty of dancing with a live big-band so make sure to put on your dancing shoes. It's like stepping back in time. Our Luxury Limousine Service in NYC and Long Island is a perfect way to get in and out of the city. Leave the transportation to us.
New Dining Hot Spots
Every time you think you have found your favorite New York hot spot, a new one comes on the scene. We've selected a couple of restaurants which we think hit the spot:
Celestine
If Eastern Mediterranean cuisine calls to you, Celestine is a must for you. With stunning views of the waterfront, this is the perfect place to wind down with your sweetie and enjoy a cocktail or two while dining on their four-course Valentine's Day menu. The menu includes grilled spot prawns, grilled winter chicory salad, braised lamb shank and Persian love cake. With Delux collecting you once your evening is complete there is no reason not to try a Heart of Glass or Man of Wool cocktail before heading home.
L'Atelier De Joel Robuchon
With 32 Michelin stars to his name, Joel Robuchon's reputation precedes him! This restaurant is all about modern French cuisine cooked to perfection using high-quality ingredients and a technique you can only learn at the hands of a master! The menu for Valentine's day has been crafted to tickle your taste buds. The options include King Ora salmon with French Imperial caviar, eggplant confit, caramelized free-range quail with foie grass and a dessert of pear sorbet with lemon foam. L'Atelier is an experience to be enjoyed at a leisurely pace. Our limo service in NYC is the most sensible and economically way to enjoy a romantic evening.
Conclusion:
Delux Worldwide Transportation makes it easy to reserve the perfect vehicle for the evening. To make a reservation, please visit our reservation page or give us a call us on (800) 232-3358 to speak to a knowledgeable representative who will recommend the most appropriate limousine for your evening. You can also reserve using our convenient mobile app.
We know that wherever you decide to dine, our Luxury Limousine Service is exactly what you need to make the evening perfect!
Comments are closed.