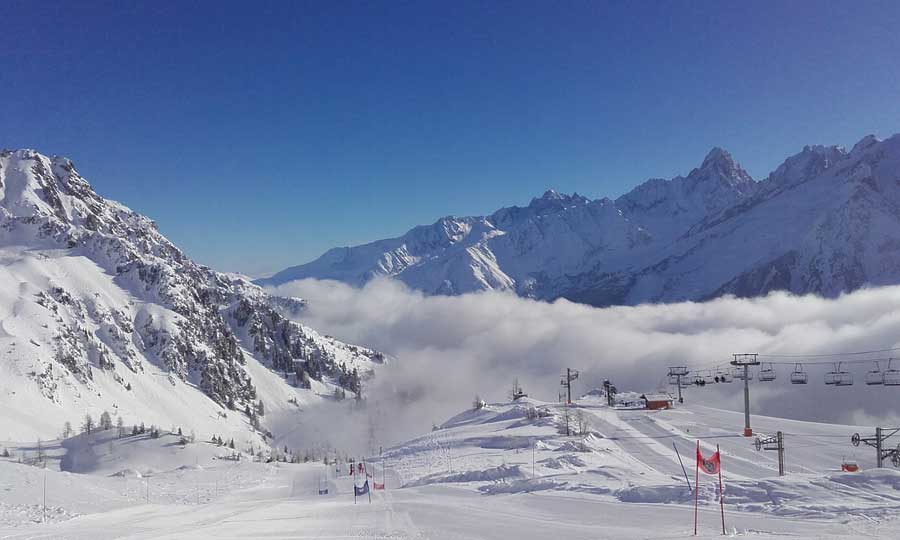 Ski season starts as soon as summer comes to a close and the temperatures begin to dip, and if you're a skier, you're ready for some powder. Once you've decided when to go, the next big question is which mountain are you going to plant your skis. Getting to many of the top ski resorts will require you to take a flight. Leaving from NYC, New Jersey, and Long Island is a breeze with our convenient airport car service or limo service in NYC.
Airport car service from NY area airports
Delux has been providing airport car service for over 50 years. We know how important it is to provide timely service, especially when you need to make a flight. By choosing us, it's one less thing for you to worry about and you eliminate the hassle and expense of parking the car. Our limo service in Long Island offers a fleet of vehicles that will accommodate multiple pieces of luggage, bulky ski equipment, and is well suited for large or small groups.
1. Utah
Some of the best skiing in the US is out west in Utah. Two of the top-rated resorts, Snowbird and Alta, are available to fly to from Newark, LaGuardia and JFK airport. You can fly directly to Salt Lake City from JFK and Newark, but most flights from LaGuardia have at least one stopover. Did you know you can book us online or on our mobile app? Enter your details, and we can provide an airport car service from Salt Lake City airport in Utah to your ski resort. Knowing how many passengers and how much luggage you have, we can ensure we send a vehicle that is suitable for your needs.
Snowbird is famous for steep skiing and deep powder snow and has runs for all skiing levels. Alta is proud to claim it has "the greatest snow on earth" and late February and March are great times to visit.
2. Colorado
Telluride is a top ski resort with 148 trails and over 2000 acres of top-quality ski terrain. It offers trails for beginners, intermediate and advanced skiers. Telluride isn't the easiest to get to from area airports. There are shuttle services available, but with the journey taking around 90 minutes a shuttle service may not be the most comfortable way to travel. Why opt for the resort shuttle when you can take advantage of Delux's airport car service through our affiliates. We service most cities nationwide.
You can fly non-stop from Newark airport to Montrose, or fly into Telluride Regional Airport; one stopover from Newark. Telluride is known for its amazing scenic views and for being an area of immense charm. It is a place without pretension, and it's a favorite among A-list stars who don't want to be snapped by paparazzi.
3. St. Anton, Austria
St. Anton is said to be one of the best places for skiing in Europe, and the Alps of Austria earn their reputation as one of the snowiest areas on the continent. There are 340km of pistes and a further 200km of off-piste areas. The town itself is full of stylish hotels and chalets, quality restaurants and an excellent lift system. One of the nearest large airports is Innsbruck, and you can fly there with one stop from NYC. Delux's fleet extends to Austria via our affiliates program. Our affiliates maintain the same high level of service and quality that Delux Worldwide Transportation is known for.
4. Chamonix, France
Chamonix is famous for holding the first ever Winter Olympics back in 1924 and has returned to its top-ranking spot in recent years. It is an outstanding place for skiing but also mountaineering, and this is where guides come to get qualified. Snowboarders also rave about the resort, and there is plenty there for beginners too. The nearest major airport is Geneva in Switzerland, and you can fly non-stop there from New York. After booking your flight, give us a call to arrange an airport car service to the resort through our affiliates.
5. St. Moritz, Switzerland
One of the oldest winter holiday resort in the world is St. Moritz. Does it get more exclusive? We don't think so! St. Moritz has welcomed skiers for over 150 years who come knowing there is a high chance of snow. The depth of snow reaches an average of 181cm at the top of ski areas and 112cm at the bottom (figures based on February historic snowfall). On average the sun shines bright 322 days a year. With the climate of dry air and sunny skies, it is known as a champagne climate. But it's maybe the world-class hotels, restaurants, and shops, which give St. Moritz the reputation of being an elite destination.
Conclusion:
Delux Worldwide Transportation offers airport car service across the Tri-state and Long Island. We also can take care of you nationwide and internationally through our affiliates. Speak to one of our reservation consultants, and they will arrange a tailored service to meet your needs. 516-883-1900
You can rely on Delux to give you the optimum experience in airport car service.
Comments are closed.