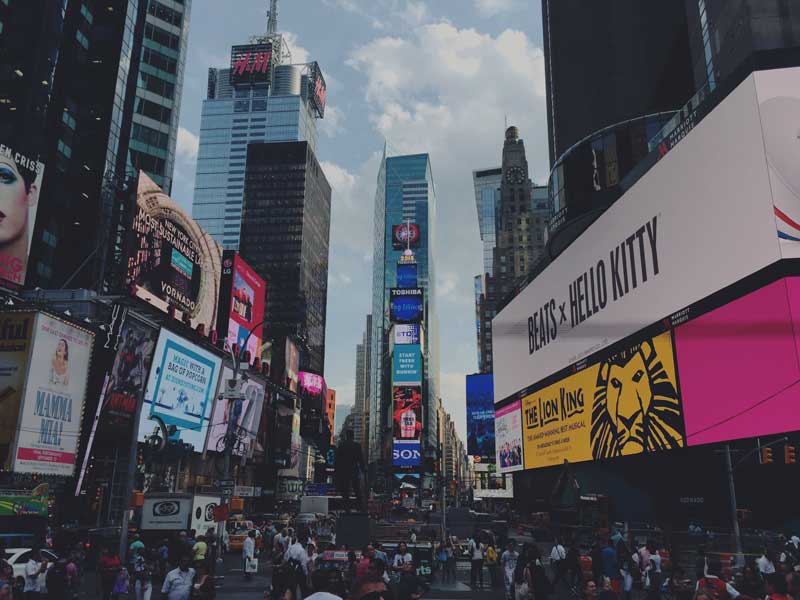 New York- the Big Apple! While a first-time tourist might check off main sights like Times Square, Central Park, the MOMA or the Radio City Music Hall, the city is packed with overlooked gems and compelling neighborhoods ripe for the visiting- especially if you live and work here.
There are the artisanal beer shops in Williamsburg, the elegant walkways of Staten Island and the charms of Tribeca's hottest dinner spots. Finding the perfect itinerary for visiting corporate clients can be a complicated task for the busy and conscientious entrepreneur. Luckily, here at Delux Worldwide Transportation we know the area very well and have a few ideas for the next time you have important guests in town- and our affordable car service NYC proves the perfect guide.
Wining and Dining Corporate Clients
For the perfect business lunch, location is everything. Discerning steak-lovers will find there's no better place than the classic Morton's The Steakhouse – with an interior lined with dark wood paneling and possessing a robust menu, the atmosphere speaks of power and tradition.
If your guests are from Europe, then perhaps they would appreciate being treated to a taste of genuine American heritage cuisine at Craft, which boasts both elegant entrees and seasonal ingredients.
For a touch of old-world class, the Artisanal Fromagerie & Bistro offers authentic French dishes, pristine taste, and an impressive cheese counter. Not to be outdone, Midtown's Capital Grille offers an exclusive atmosphere conducive to power lunches – don't miss their Martinis and seafood towers.
Show them a Perfect Time
Rather than tiring your guests by showing just the city's crowded must-sees, they will be grateful to have a cultivated itinerary that both shows the best of New York City while providing an atmosphere which also contributes to conducting business. With Delux's corporate car service, your guests will discover the city's prime locations and discover more than a few hidden gems. Often left in the shadow of the One World Trade Center or the Empire State Building, the Rockefeller Center speaks to a history of prestige, confidence and the power of the media. Their seasonal ice skating rink and Christmas tree form part of the backbone of New York's holiday spirit.
Escape to the Bronx's renown Botanical Garden for a retreat from the hustle of the city and have a stroll in the peace of nature. To experience the weight of history, your guests won't be wrong to take a venture to the less-visited branch of the Metropolitan Museum of Art known as The Cloisters – medieval works of art and illuminated manuscripts create an atmosphere of authenticity and the rewards of perseverance.
Getting out of the City
There are times, however, when the pleasures of visiting New York's rich landscape of sights and lunch spots are only matched by taking trips out of the city itself. With the abundance and proximity of Long Island, it only feels natural to take a day trip into the region – one of the highlights being authentic and interesting local wine tours. Due to our Long Island airport car service, Delux is an expert in navigating the region and knows how best to take your high-profile guests through a landscape boasting a vibrant wine industry and some of the area's leading vineyards. As we enter into the summer season, the region comes alive, and with a corporate car service, it goes without saying that you're in safe hands after a day of sampling excellent vintages. So sit back, relax and let us do the work.
A Professional, Reliable Service

When entertaining large corporate groups, transportation can turn an inspiring meeting of minds into a logistical headache – we at Delux know how to make sure your corporate meetings run smoothly so you can get back to the real work you're here to do. We offer corporate accounts for ease of use, with convenient means of booking and an app for managing itineraries and reservations. Our reliable tri-state service is ideal for foreign guests and partners as we know how to show the best our city has to offer, as well as how to avoid the inconveniences and gridlocks that would only slow you down. Our NYC and Long Island airport car service connects the city to the wider region and major transportation hubs, and our itineraries provide both the richest experience and the most affordable car service NYC has to offer. With over fifty years of experience in the city, you can rest assured knowing you and your corporate clients are in good hands.
Comments are closed.