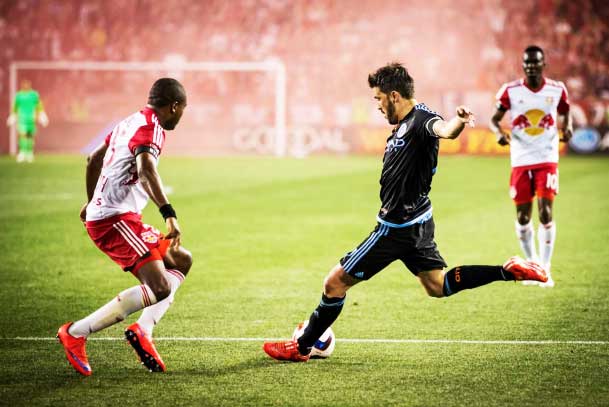 Many New Yorkers would be surprised to learn that soccer has a long and storied history in the tri-state region. In 1971, the New York Cosmos of the North American Soccer League (NASL) was born and in their fourth season they signed the world's best player at the time – Brazilian-born Pele. The addition of Pele in 1974, Giorgio Chinaglia in 1976 and Franz Beckenbauer in 1983 were seminal moments unprecedented in U.S. soccer history. Finally, New York had a team worthy of its stature.  Experience this sporting event the right way by using Delux Worldwide Transportation's luxury limousine service.
Fast forward almost fifty-years and the New York professional soccer scene is now dominated by the New York Red Bulls and New York City F.C. of Major League Soccer (MLS), making fan allegiance decisions tough for New York soccer fans. With the MLS now hitting full-swing in the summer months, New Yorkers have the opportunity to watch their favorite team or visit both stadiums. Each stadium and team are unique, and when planning a memorable experience remember to book a luxury limousine service for your transportation needs. Delux Worldwide Transportation's limo service in Long Island also services all five NYC boroughs and Northern New Jersey.
New York Red Bulls
The Red Bulls have formed ahead of the 1996 MLS season as the New York/New Jersey MetroStars and played their games at Giants Stadium in East Rutherford. In 2006, it was announced that energy drink conglomerate Red Bull was acquiring the team and renaming it, The New York Red Bulls. Now the team plays in Red Bull Arena, which opened in Harrison, New Jersey in 2010. Public transportation to Red Bull Arena is not always efficient, especially for those coming from the outer boroughs, Long Island or parts of New Jersey. The arena holds an estimated 25,000 spectators and features extensive outdoor tailgating areas that match the vibe of a European beer hall with great craft beer selections and a live band before games. Remember always to utilize a luxury limousine service to professionally and efficiently ensure your transportation to and from sporting events when enjoying alcohol.
New York City FC
New York City FC began to play in 2015 as the second MLS team in the New York Metropolitan area. They were founded in partnership between the Yankees and Manchester City's City Football Group, playing their games at Yankee Stadium and on TV on the YES network. As mentioned in a previous post about Yankee Stadium, its vastly improved amenities make it a perfect destination for a business outing via a New York corporate car service.
New York City FC is commonly thought to be an ascendant team, with former Barcelona striker David Villa continuing his goal-scoring dominance in the MLS. But, while the Red Bulls have faltered slightly in the standings over the last couple of years, each edition of the Hudson River Derby provides the best highlights of New York professional soccer.
Conclusion:
Our luxury limousine service offers reliable, affordable and friendly service in state-of-the-art vehicles. Choose from a fleet of sedans, luxury vans, limousines and SUVs. Call today or book online. 516-883-1900
Comments are closed.