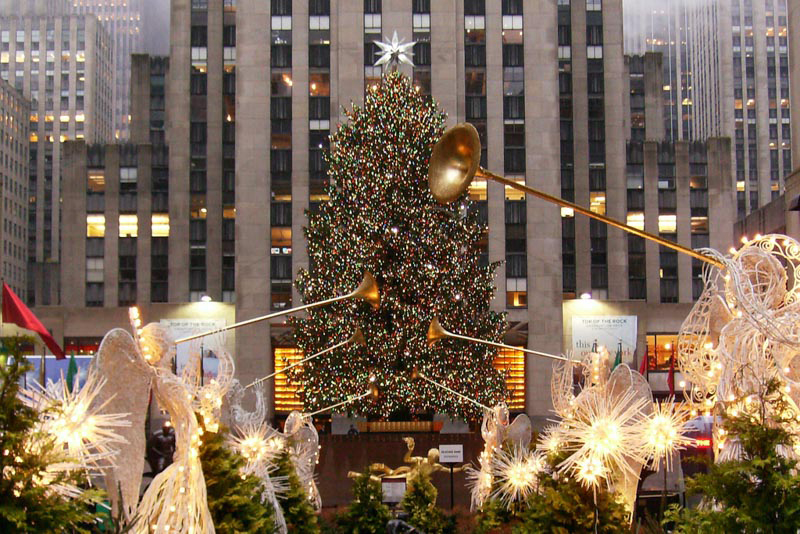 There is no shortage of festive events that take place around Christmas in New York City. One of the most iconic is the lighting of the Christmas tree in Rockefeller Plaza. But as the event is on a first-come basis, it often pays to get there a bit earlier to make sure you get a good vantage point. One of the best ways to do this is with our limousine service in NYC.
The Rockefeller Tree
The tradition of the Rockefeller Christmas tree started back in 1933. It was an unofficial tradition at first when a smaller, 20-foot balsam fir was decorated with paper garlands, strings of cranberries and even a few tin cans! This was done on Christmas Eve, and workers pooled their money to buy the tree while their families made the decorations.
Two years later, the first official tree was brought to life and lit – a 50-foot tree that was dubbed a 'holiday beacon' for the people of New York and visitors. In 1936, a skating rink was a welcome addition below the tree, and the roots of the modern tradition were born.
For a step back in time to an era of pure elegance why not recreate the feeling by experiencing the lighting of the tree in one of our most elegant, first-class, quality limousines. From experience, we know that every one of our valued customers is unique in their requirements. When you first contact us, you'll speak with a knowledgeable representative who will recommend the most appropriate limousine for your purposes.
The 2017 Event
This year, the tree will be lit on November 29th and will remain lit until 9 pm on January 7th. So, if you can't make it for the lighting, there is plenty of time to visit the stunning tree over the festive period. Many people using our Long Island airport car service will ask to see the tree before heading to their destination because it is such a spectacular sight!
The ceremony takes place between 7-9pm on the 29th and getting there before the masses will ensure you have a magnificent view. Using a limousine service from Long Island into the city means you arrive in comfort and style. And by booking a limo, you don't need to worry about trying to find a cab among the thousands of people expected to turn out. Did you know we offer both black and white limousines? Each limousine in our fleet has a show-stopping interior which includes a plush seating area and space to store bottles of champagne. We aim to make your journey one to remember.
Rockefeller Christmas
Of course, the tree is just one of the elements of Christmas at the Rockefeller Center. The ice rink is available and is one of the most celebrated attractions in the city over Christmas. With the sparkling festive scene and quality facilities, it is a great place to visit with kids young and old!
If you want to see the stunning nighttime city view, the Top of the Rock is the best spot. 70 stories above ground level, it offers incredible views out across New York. See the snow-covered trees in Central Park and the bright lights of the skyscrapers.
Finally, the center also offers lots of great shopping and dining experiences. There are over 100 shops there, so it is a perfect place to pick up some gifts, souvenirs or just a treat for yourself and the family. Shopping is a breeze when you use our limo service in NYC. The luxury of having a chauffeur driven vehicle deliver you any store in the city is an incredible benefit. Why lug shopping bags when they can be safely stored in the vehicle while you enjoy the experience. There are also plenty of eating places from cocktail bars to gourmet sandwiches and a high-quality evening meal. Don't forget to book your return limo service to ensure a relaxing journey back home or to wherever your travels will take you. Navigating the most efficient routes is second nature to our chauffeurs, and with our advanced GPS system, we say goodnight to any potential traffic nightmares!
When looking for limousine service in NYC, make sure to try Delux Worldwide transportation. Call 24/7 516-883-1900 or book online or with our mobile ap.
Comments are closed.